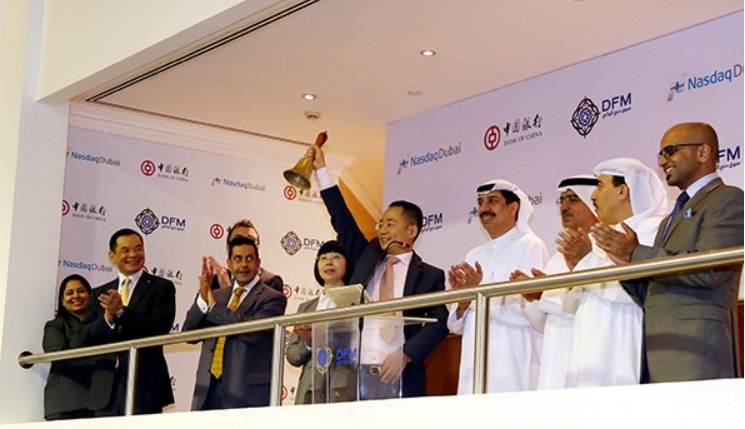 A ceremony was held in Dubai in July 2015 to celebrate the launching of yuan-denominated bonds by Bank of China. [Photo provided to China Daily]
Mainland quickens the pace of change to spur growth and competitiveness, entice global market investors
BEIJING ? China has quickened the pace of opening up its financial market, to spur economic growth, raise financial competitiveness and actively participate in global markets.
Last month, overseas investors gained direct access to the Chinese mainland's $10 trillion bond market with the launch of the Bond Connect platform in Hong Kong.
This will allow qualified overseas investors to trade bonds on the mainland interbank bond market, including treasury bonds, local government bonds, policy bank bonds and commercial bank bonds.
"The Bond Connect is conducive to the internationalization of the mainland's financial market and is a driving force for its financial opening up," said Dong Yuping, a researcher of the Institute of Finance and Banking at the Chinese Academy of Social Sciences.
Besides the Bond Connect, the Chinese government has taken an array of measures to make its stock market more accessible to foreign investors. These include the launch of stock connect programs between the mainland and Hong Kong bourses, better regulation of arbitrary trading suspensions and looser restrictions on Qualified Foreign Institutional Investors.
At the end of July, China's dollar-denominated QFII program rose to $93.27 billion, with 284 overseas institutions receiving quotas under the QFII program to move money into the country's capital account.
"These measures diversified yuan-denominated products available for international investors and increased cross-border transactions in the yuan, giving a boost to the currency's rise as an international currency," Dong said.
The introduction of foreign-capital banks to the domestic market and moves by China's financial institutions to go global have also been seen as positive steps in developing the financial sector and building a free and open capital market.
"Opening up helps to build a strong and competitive financial sector in China," said Zhou Xiaochuan, governor of the People's Bank of China, at the Lujiazui Financial Forum 2017 in June.
Zhou said protectionism and protectionist behavior limiting the participation of foreign players in China would lead to laziness and weakness, causing poor competitiveness that would hurt the sector's development.
Domestic commercial banks have learned a lot from competition, with competition from foreign-capital banks helping China's financial sector in terms of product evolution, market building, business models and management expertise, Zhou said.
The development trends of China's financial market have attracted the attention of the international financial market and emerging market index institutions, showing that the financial sector is competition-driven and has benefited from opening up.
Leading global equity index compiler MSCI announced in June that from June 2018, it would include 222 China A shares in its Emerging Markets Index and All Country World Index.
Earlier in June, the European Central Bank said it had shifted 500 million euros ($586.3 million) worth of foreign reserves to the yuan during the first half of this year, adding the Chinese currency to its reserves for the first time.
Economists said this demonstrated that global investors had faith in China's economic outlook and financial market health.
Shi Donghui, a capital market researcher at the Shanghai Stock Exchange, said the MSCI inclusion was "a vote of confidence" in China's efforts to push for economic globalization and merge into the global financial market.
Source: Xinhua News